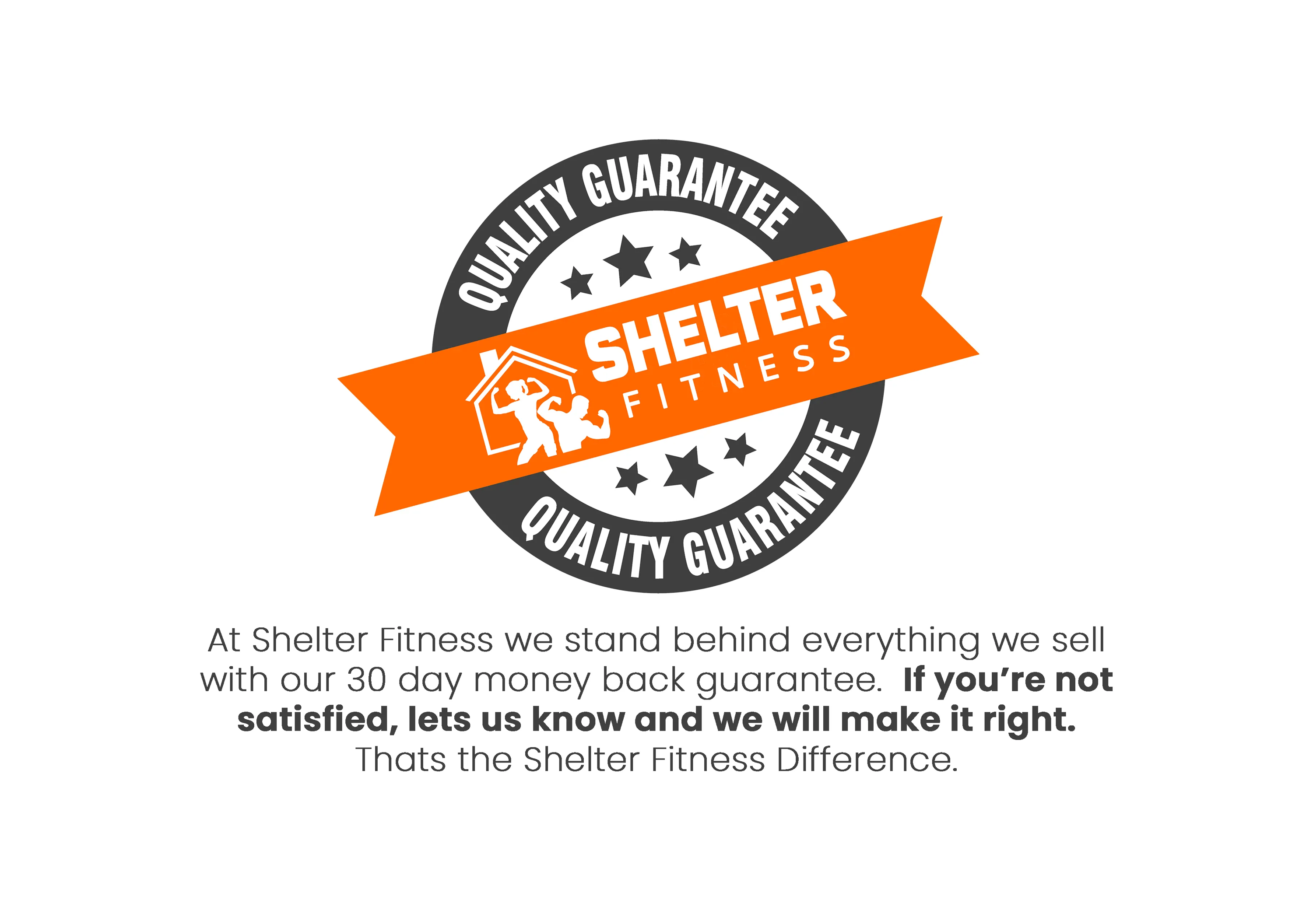 Buy One Kettlebell, Get One 50% Off!

---
Use code KBBOGO50 at checkout to save! Discount applied to lowest cost item.  
PRODUCT DETAILS
Our Kettlebells are tested and designed to stand up to the rigors of a commercial environment. Invest in quality that you can trust.
---
3 Sizes (8kg/18lb, 16kg/35lb, 24kg/53lb)
---
First Run Cast Iron Construction

---
---
Textured Surface for Maximum Grip
---
Industry Tested Power Coat Finish
---
Commercial Quality Construction

Our kettlebells are 100% Cast in a single piece with no welding, producing a premium product appropriate for use in commercial settings and heavy home use. They feature a black powder coat finish that has a great feel and grip. This surface takes chalk well and provides a solid texture to the hand during use.
Premium Finishes

Each bell carries a Green (8kg) Blue (16kg) and Red (24kg) color band on the handle for quick identification. The backs of our bells are stamped with both KG and LB indicators. The Shelter Fitness Logo has been embossed in each bell during casting, not attached after production like cheaper products.
Buy More, Save More

It's no secret that shipping weights can be costly. We worked with the major shipping couriers to get the best rates for you. The more you purchase, the less cost per pound to ship!
Fast & Free Shipping of In Stock Products

You will never see "Ships in 10 days" from shelter fitness. We know your time is precious so we only sell what we have in stock and ready to go. Buy from us and get your gear fast and shipped free with our UPS Services!

Kettlebell Purchasing Guide & Suggestions

Buying Kettlebells can be confusing if you are new to this style of training. At Shelter Fitness, we stock three different sizes kettlebells. According to many in the fitness profession, 8kg, 16kg and 24kg options provide the perfect variety for most kettlebell workouts and will meet most needs. Consider the following when purchasing:
Recommendations for Male Athletes
When starting, don't be afraid to start small at first. For most men new to Kettlebell training our 16kg option is an ideal place to begin. The 24kg option is great for athletic and active men as a heavier option. Buying both in tandem will give some great options over time.  

Recommendations for Female Athletes
For most female athletes starting out, 8kg is the ideal starting weight. As you progress in your program, our 16kg option is a great next step, and it is a good starting option for females already comfortable with weight training.  
Recommendations for multi-use Home Gyms
If a variety of people will be using Kettlebells, we suggest that you consider purchasing all 3 options. This will allow anyone from the new athlete to established expert to get in a great workout.

Do I need to buy Pairs?
The great thing about Kettlebell training is that one kettlebell will enable you to perform most common exercises. While buying pairs does open up some other exercise options, its not necessary from the start. We recommend buying multiple size bells before considering purchasing pairs, as different weights will prove much more useful at first.  


We ship our products from the usa
Our fulfillment centers are located throughout the USA. We only sell products that are in-stock and ready to ship. Most orders arrive in 2 days or less!
No Hassle 30 day guarantee
Changed your mind and would like a different model? No problem. We give you 30 days to return or exchange any order with no questions asked.
Our Support is Second to None
We take pride in providing clear product details, Shipment Tracking, and rapid, thorough, & personal replies to any question received.